ANGRYSPARROW.NET
An Invitation…
Posted February 5, 2011 by beamlette and galatia9
[Home]            [Biographies]           [Stories]           [Links]
<![if !vml]>
<![endif]>
<![if !vml]>
<![endif]>
Chance: Okay, you ready for us to start the webcam?
Fenchurch: Yep! I can hardly wait to see what they think, and if they can come –
<![if !vml]>
<![endif]>
Chance: Hey, we've got contact – hi, Wynnefred!
Fenchurch: Hi, Fred – is Hiro around? We've got something to ask you both –
Chance: We want to know if you two can come out and visit, like we'd been talking about –
<![if !vml]>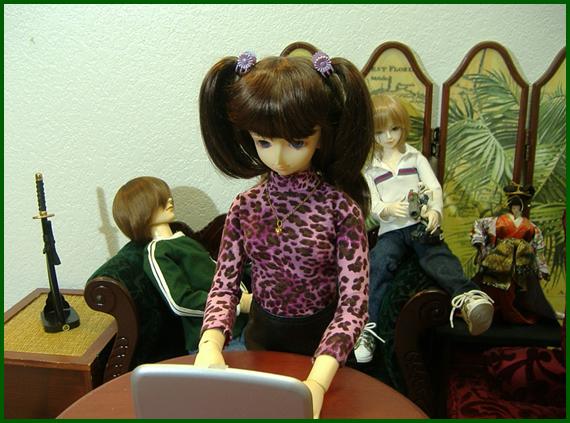 <![endif]>
Wynnefred: Hi Chance! And hello, Fenchurch! How are you both? Hiro's right here –
<![if !vml]>
<![endif]>
Wynnefred: Hiro! Fenchurch is online, and she and Chance want to talk to us about visiting them!
Hiro: Go ahead and chat with Chance. I'll talk to Fenchurch when you're done.
Wynnefred: Hiro, get up! They want to talk to BOTH of us!
<![if !vml]>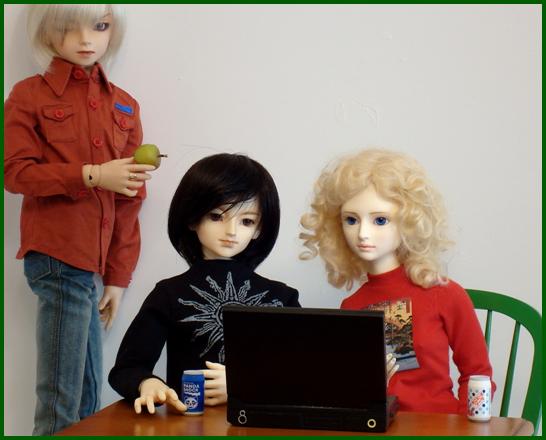 <![endif]>
Chance: Sorry about that, Hiro, but we thought we should both tell you about it at the same time, saves repeating and all that. Also, Ms. Beamlette'll take us to visit Volks in California for a day, though we have to dress up – but it should be fun – you always look so cute, Wynnefred –
Fenchurch: My mom and aunt and uncle'll be visiting, so you can meet them, Hiro. Bet you REALLY want to do that *giggle*. Seriously, it'd be a good opportunity; I'd like it if you could –
<![if !vml]>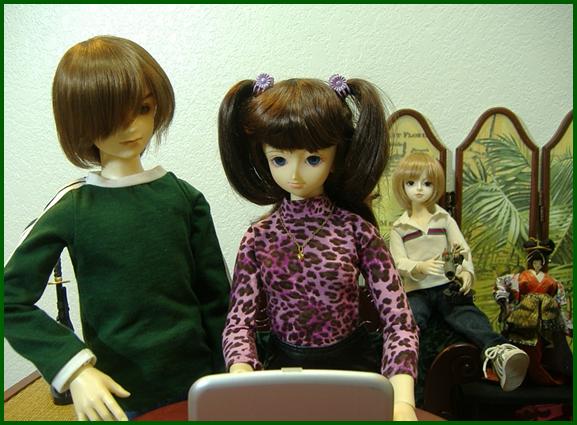 <![endif]>
Wynnefred: Ooh, Volks!! I've never been to California!
Hiro: Dressing up?! *snort* I don't THINK so!
Wynnefred: Oh Hiro, you're no fun. Chance, we would love to!
Hiro: I know you won't believe me, Fenchurch, but I DO want to meet your family.
Wynnefred: Anyway, I think a visit would be perfect! Linda is due for some vacation time, plus we have time off from school coming up. Oh, and Chance! Do you think I could invite Rachel? She would love it!
<![if !vml]>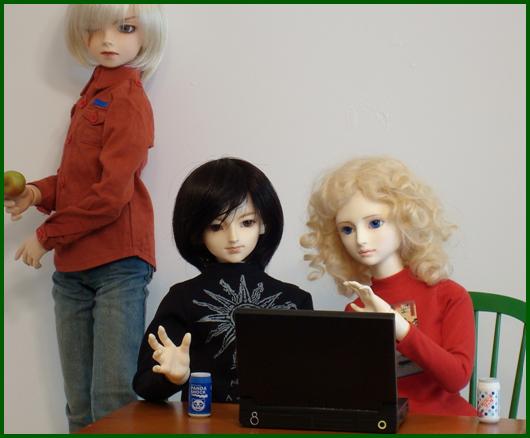 <![endif]>
Chance: Sure, Rachel's welcome to come, if she'd like – I know Ms. Beamlette won't mind –
Fenchurch: You know I'm just razzing you, Hiro – I know you've wondered when you'd get to see them, so – this is your chance. I'm really glad it's going to happen –
Chance: We'd better sign off for now – it was good seeing you, Wynnefred, but it'll be even better in person, soon – 'bye!
Fenchurch: Same to you, Hiro – 'bye for now – and hi and 'bye, Luke – I see you back there!
<![if !vml]>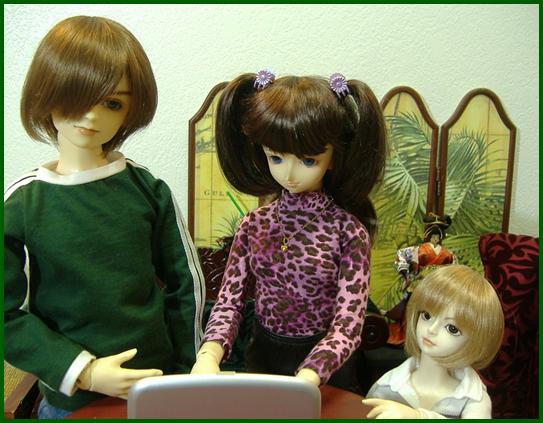 <![endif]>
Wynnefred: Oh, good! I can't wait to ask Rachel if she can go. See you soon, Chance! I miss you! *blush*
Hiro: I'll be really happy to meet them, Fenchurch. Talk to you later!
Luke: Did you tell Fenchurch I said hi?
Wynnefred: She saw you, Luke, and she said hi back! Hiro... are you REALLY looking forward to meeting Fenchurch's mom and aunt and uncle?
Hiro: *wryly* I THINK I will be! I just hope I don't change my mind later!!
Excitement and anxiety mingle, and a certain someone spots an opportunity...
The promised visit to the Volks store was indeed made –
<![if !vml]>
<![endif]>
[Home]            [Biographies]           [Stories]           [Links]
<![if !vml]>
<![endif]>