ANGRYSPARROW.NET
Uncanny Dreams
Posted August 22, 2013
[Home]            [Biographies]           [Stories]           [Links]
<![if !vml]>

<![endif]>
My Intended Entry for the Recent "Uncanny Dreams" BJD event
I say "intended" because a week before Uncanny Dreams, I had to cancel my trip; the BF had a serious eye problem which meant no flying, so I took myself out of the contest. But I still have pics, and thought it would be fun to share them.
The theme was "Circus of Mysteries" and my intended backstory for Tancredi's uncle Verdigris fit nicely. He's the master of ceremonies for a cheap and cheesy knock-off of Cirque du Soleil, called Cirque de la Lune. Hibou has become one of their exhibits, with gal pal Zimta the Mold Elf as her minder, since any minute, Hibou may fly the coop.
<![if !vml]>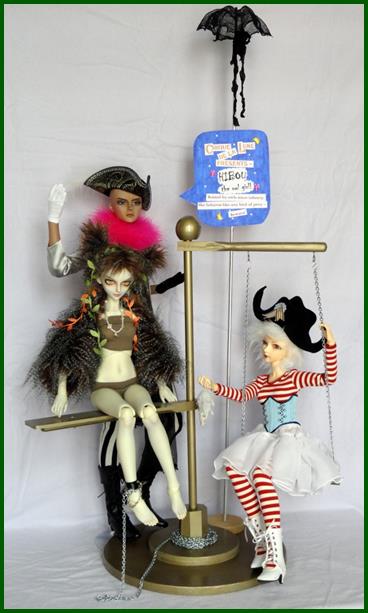 <![endif]>
The BF built this fun perch for Hibou and Zimta, which won't go to waste, I'm sure. **wink**
<![if !vml]>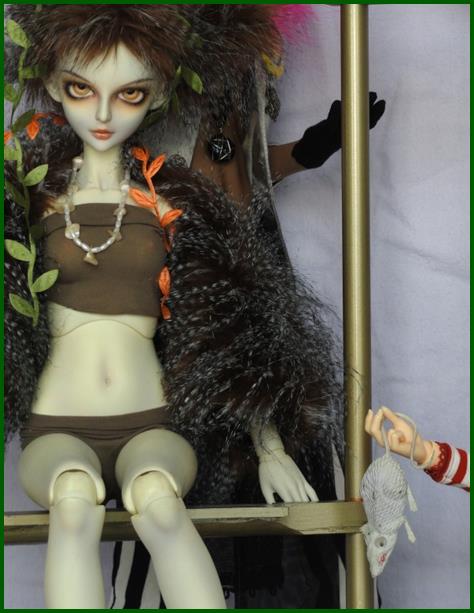 <![endif]>
Note the rat Zimta's hand dangles, in hopes of distracting Hibou from whatever, or whoever her gaze is fixed on...
<![if !vml]>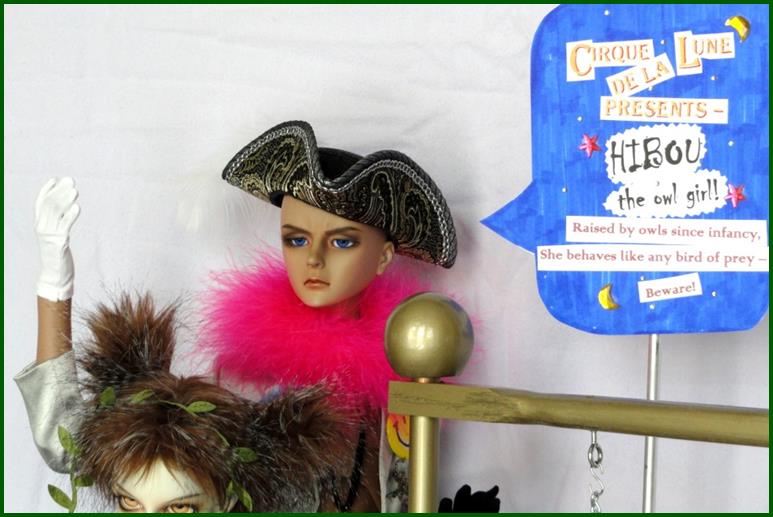 <![endif]>
I had fun putting together Verdigris' "speech balloon" **grin**
Bonus pic; Verdigris modeling his ensemble...
<![if !vml]>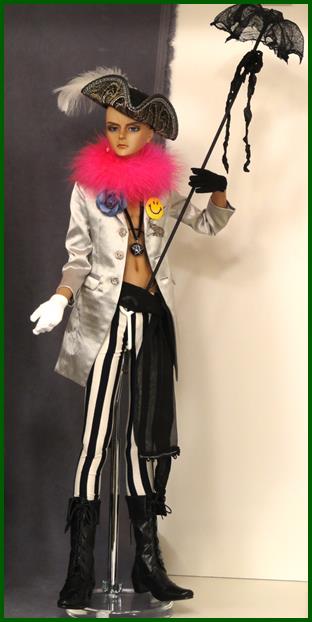 <![endif]>
Since my great plans to sew for my resins have never materialized, I'm thankful I've accumulated a lot of clothes and accessories over the years to comb through and coordinate suitable outfits for the theme. Some things got used for the first time, like the gloves he's wearing (an Alice's Collection purchase). His splendid tri-corn hat is by cthulhu. (In the first pic, Zimta's striped bodysuit is by beachgirlnikita, and her bi-corn hat by Allison.) **smile**
++++++++++++++++++++++++++++++
Allison is Allison Wonder on DoA, and beachgirlnikita is just beachgirl on DoA.
Accessorization makes the look!
 The next squib demonstrates the importance of backdrops, too –
Gladys Irises
< Previous Story                                                                       Next Story >
<![if !vml]>

<![endif]>
[Home]            [Biographies]           [Stories]           [Links]
<![if !vml]>

<![endif]>